Body art as a means of expressiveness
January 11, 2023

Exploring piercing cultures across the globe
January 11, 2023
Difference between Colour and Black Tattoos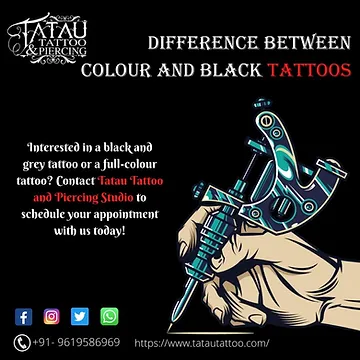 When considering what type of tattoo you want to get, it is essential to do research on the various styles. Tattoos now come in countless different styles, with limitless designs and a wide variety of colours. The type of colour, shading and tones will vary depending on the tattoo design, tattoo artist and tattoo style. Whether you want to use black and grey, a pop of colour, or have a bold multi-coloured design depends on you.
Black and Grey Tattoos
Many tattoo lovers prefer getting black and grey tattoos because they are subtle and have an aesthetic appeal. These tattoos offer bold, stark, contrasts and intricate patterns. Typically, black and grey tattoos take less time. The shades of black and grey generally have a less chance of fading and are less susceptible to the damage of sun exposure.
Full Colour Tattoos
Over the years, full-colour tattoos have become a staple in the tattoo community. They are vibrant and bright. The unique colour tattoos are offered in different colours, so it is essential to choose a colour that suits your skin type. Full-colour tattoos also require special care to prevent fading over time. Full-colour tattoos may be slightly more painful because layers of colour are summed up on top of the cut skin. Most tattoos look their best after the healing process is complete.

Our tattoo artists at Tatau Tattoo and Piercing Studio have years of experience designing many tattoos in these two popular styles. There are numerous benefits of these tattoo styles. It just depends on what overall look you are wanting to achieve with your ink. Interested in a black and grey tattoo or a full-colour tattoo? Contact Tatau Tattoo and Piercing Studio to schedule your appointment with us today!
Tatau Tattoo and Piercing Studio, the best tattoo and piercing studio in Mumbai, was established and founded by J'son D'souza the best tattoo artist in Mumbai.They offer affordable tattoo & piercing costs in Mumbai and the best tattoo designs in Mumbai. If you would like to get in tattoos designs by the best tattoo artists in Mumbai, you can reach us through WhatsApp at +91- 9619586969.