A good tattoo isn't cheap, and a cheap tattoo isn't good!
January 11, 2023

Positive expression through tattoos
January 11, 2023
When getting a tattoo, what are some mistakes first-timers make?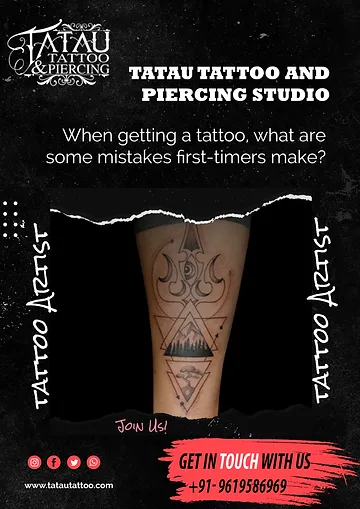 For many people, the first time they get a tattoo is an exciting experience. Therefore, doing it right is key to making it a memorable one. Tatau Tattoo and Piercing Studio's best tattoo artist is well aware of this and offers helpful advice. J'son D'souza A.K.A. Mr. Piercer has identified the common mistakes beginners commit.
Wrong tattoo artist
In J'son's opinion, there is no greater mistake than choosing a tattoo artist you can't get along with. It is a very intimate thing to get a tattoo in a tattoo shop. When you're surrendering your skin to them, you need to be comfortable with them. Avoid tattoo artists who disrespect you. Numerous clients have complained that artists are unkind and disrespectful.
Lack of clear communication with tattoo artist
Tattoo artists in Mumbai must interact with customers to get a better idea of what customers want. The tattoo artist should focus on mutual trust by learning about the hearts and personalities of his or her clients.
Lack of research
Some tattoo enthusiasts are so eager to get one that they don't bother to read reviews or research their tattoo artists before they head to a parlor. Many people overlook the fact that the tattoo shop may be dirty, and whether tattoo artists are drinking or using drugs. It is quite common for people to remove tattoos in the future.
Tatau Tattoo and Piercing Studio, the best tattoo and piercing studio in Mumbai, was established and founded by J'son D'souza the best tattoo artist in Mumbai. They offer affordable tattoo & piercing costs in Mumbai and the best tattoo designs in Mumbai. If you would like to get in tattoos designed by the best tattoo artists in Mumbai, you can reach us through WhatsApp at +91- 9619586969.